LoLiPoP IoT Kickoff Meeting


LoLiPoP IoT Kickoff Meeting will take place at meeting rooms of COMFORT HOTEL PRAGUE CITY EAST located at Becvarova Str. 14, Prague 10
---
From the airport: Transportation from Václav Havel Airport takes roughly 40 minutes by taxi (depends on traffic). You can also use public transportation.  Bus number 119 will take you to the NÁDRAŽÍ VELESLAVÍN station, where you will transfer to the subway/metro green line A in direction to DEPO HOSTIVAŘ. Get off at STRAŠNICKÁ station, from where you will continue approximately 5 minutes on foot. You will need just a ticket 40 CZK for 90 minutes.
The easiest way to move around Prague is using public transport that is fast, cheap, and reliable. Prague has three Metro lines A, B, and C, all going through the city centre. Metro (underground) is very reliable, fast and with short intervals between trains. There is also a dense network of trams that is particularly useful in a wider city centre. To visit areas not covered by trams or metro, one can also use numerous bus lines. There are even ferries and cable cars in Prague. In the historical city center the best way to move is by foot.
The fare is 30 CZK for 30 minutes (for most travel), 40 CZK for 90 minutes (enough to get almost anywhere in Prague), 120 CZK for 24 hours, and 330 CZK for 72 hours. The ticket is always valid from the moment of its marking and it can be bought from vending machines located in most stations and stops. There is also an app "PID lítačka" that can be used to buy tickets directly via mobile phone.
Public transport in Prague is managed by Dopravní podnik hlavního města Praha. Current fares, timetables, trip planner etc. can be found at their web page.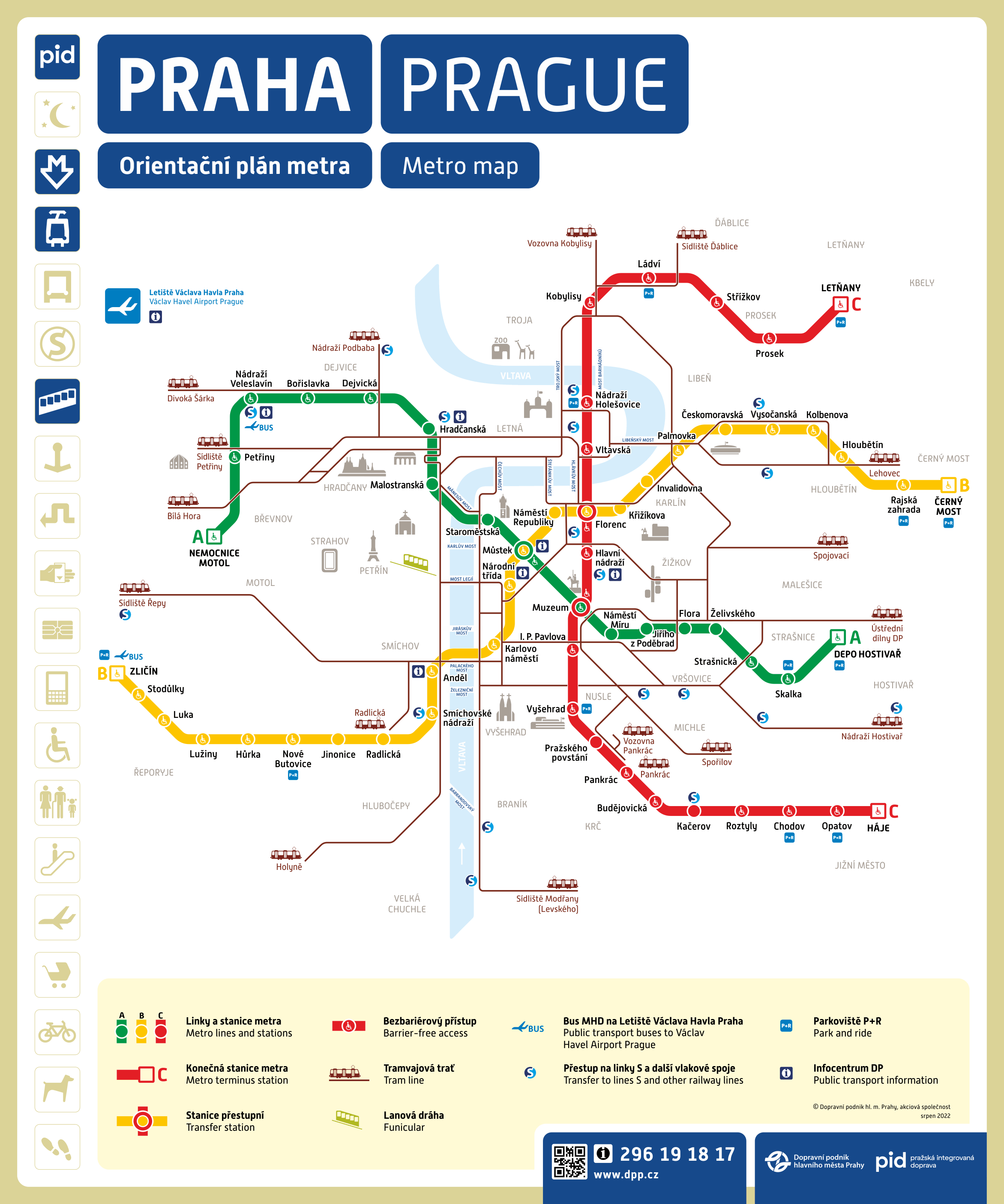 ---
Hotel offers also accommodation in:
Single Room: 115 EUR / night




Double Room: 125 EUR / night
(Prices are per room, including breakfast, internet connection, entrance to fitness room, and 10%VAT. It does not include the city tax of 50 CZK)
Reservations:
Individual reservations are extended due by June 8, 2023. There is a LIMITED number of rooms.
To reserve the room at the conference hotel please use
The check-in time is 14:00, check-out time is 12:00.
Cancellation Policy:
If cancelling the stay before June 1, 2023, no fee is charged. If cancellation is between June 2 – 16, 2023, the cancelation fee is 50% of total price. Later cancellation or No Show is charged with 100% cancellation fee.
Contact to

the reservation department:
Ms. Tereza Danihelková, e-mail: sales.copr@c-hotels.cz, phone:+420 725 458 596
The registration for the LoLiPoP IoT Kickoff Meeting is handled by Ms. Milena Zeithamlová, registration chair.

To register, you are kindly asked to complete the REGISTRATION FORM below and pay the
Registration Fees:
Early Meeting Fee: 320 EUR

paid

till and on

May 22

, 2023

Meeting Fee: 350 EUR

paid

after

May 23

, 2023
 Registering early will save you money, and also it will help us to organize things better!
The Meeting Fee includes:
physical

attendance at 

 LoLiPoP IoT Kickoff Meeting  – Wed, Thu

3 coffee breaks, 2 lunches, 1 dinner
Payment
in EUR (Euros):
by card

(VISA/VISA Electron, MasterCard/Eurocard, Maestro)

by bank transfer

(possible only until June 23, 2023) 

IBAN: CZ3601000000007473400217


Swift Code: KOMBCZPP

EUR Account No.: 7473400217, Bank Code: 0100

Bank address: Komercni banka Prague 10, Vladivostocka 2, 100 00 Prague 10, Czech Republic

Account holder: Ing. Milena Zeithamlova

Address: Kazasska 1426/6, 101 00 Prague 10, Czech Republic

Please indicate your PROFORMA INVOICE number and your name as payment description/identification. Please make sure that the bank transfer is net of all bank charges and commissions made. Otherwise, the remaining charges will be requested upon your arrival when registering.

Confirmation / Proforma Invoice / Invoice

Once you have completed the online REGISTRATION FORM you will receive the email confirmation. In the case of

credit card payment

,

the

proforma invoice

corresponding to your payment (pdf document) will be attached to the confirmation email. The confirmation email contains very important information including the status of your card payment. After your successful payment authorization, you will receive immediately a final

invoice

. (If the card payment is declined by the authorization center, just click on the link of payment status and fill in the card details again or use another card).

bank transfer

,

the

proforma invoice

corresponding to your payment (pdf document) will be attached to the confirmation email. The final

invoice

will be issued upon the receipt of the payment on our account and sent attached to the confirming email.

Cancellation & Refund Policy


described and to be confirmed on the registration form below.

Invitation Letter & Questions?

If you need a Letter of Invitation to obtain a visa, Ms. Milena Zeithamlová will send you such a letter upon request, once you have registered for the  meeting and paid the registration fee. The following information is useful to let her know:

Name, Last name, Work, Work address, Home address, Passport No, Date of birth, Nationality
EARLY REGISTRATION DEADLINE: May 22, 2023
after this date, the registration fees will be changed to LATE REGISTRATION FEE
Notes to fill in the Registration Form (t

he completed form fields are used to issue an invoice

)

:
by setting the first flag of your country in the items Phone Number, Country

enable the completion of the items including ZIP

if you do not know the Company ID or Tax/VAT Number you can fill in "- – – – -" ("five times dash")
if you do not have the Street House Number you can fill in "0" ("zero")
* means the required item
Any question? Please send an email to milena@action-m.com